Harris Tweed® Soft Furnishings Designed And Produced In The UK
We offer a growing range of Harris Tweed® blankets, footstools and cushions all made to exacting standards in our UK workshop.
Harris Tweed®, or Clo Mor ('The Big Cloth') as it is known in Gaelic, is world renowned and synonymous with quality.
Made from 100% British wool it is renewable, biodegradable and recyclable.
Harris Tweed® really is the natural choice for you and your home.
Read about how this beautiful fabric is produced here.
Free UK delivery | Worldwide Shipping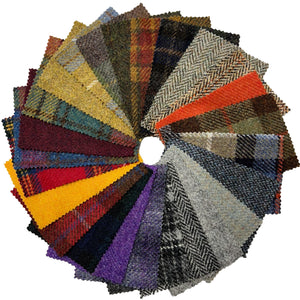 Harris Tweed® Sample Pack
Having trouble deciding which is the right Harris Tweed® for you? 
Order a sample pack of up to 6 tweeds and you will receive a discount code with your samples. This discount code can then be applied at checkout to deduct the £3.99 cost of your samples from your order total, once you have decided which of our beautiful tweeds is perfect for you and your home.
order your samples now